Description
Ballangrud Blade
To clap or not to clap? Both are possible with this blade.
If you want to experience the benefits of a clap skate, while retaining the option to ride a fixed skate, then the Ballangrud skate is the right choice for you.
Due to the special construction the advantages of the clap skate are now within the reach of a large group of active recreational skaters: more speed, easier push-off and more comfort.
Almost any boot used in ice skating or inline skating can be mounted on the aluminium frame of the Ballangrud, and it can be adjusted both towards the inside and the outside.
Due to the special construction of its pivot point, the Ballangrud  is 15-20 mm lower than most competition clap skates. This makes skating more relaxed, especially during long-distance rides.
The Ballangrud can be easily changed into a fixed skate by means of the so-called locking pin. In other words you have freedom of choice: fixed skates or clap skates.
Ballangrud 9900, Technical specification
| | |
| --- | --- |
|  Tube finish |  Powder painted silver |
|  Aluminium |  7000 quality |
|  Thickness of the runner |  1,05 mm |
|  Hardness of the runner |  64Rc. |
|  Height of the runner |  27 mm (sprint) |
|  Radius |  23 meter |
|  Sizes |  39-41-43-45 cms |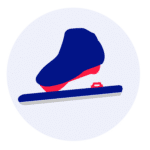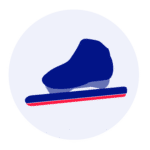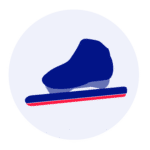 Alle schaatsen zijn geslepen en klaar voor gebruik!